Apollo Safe Open beta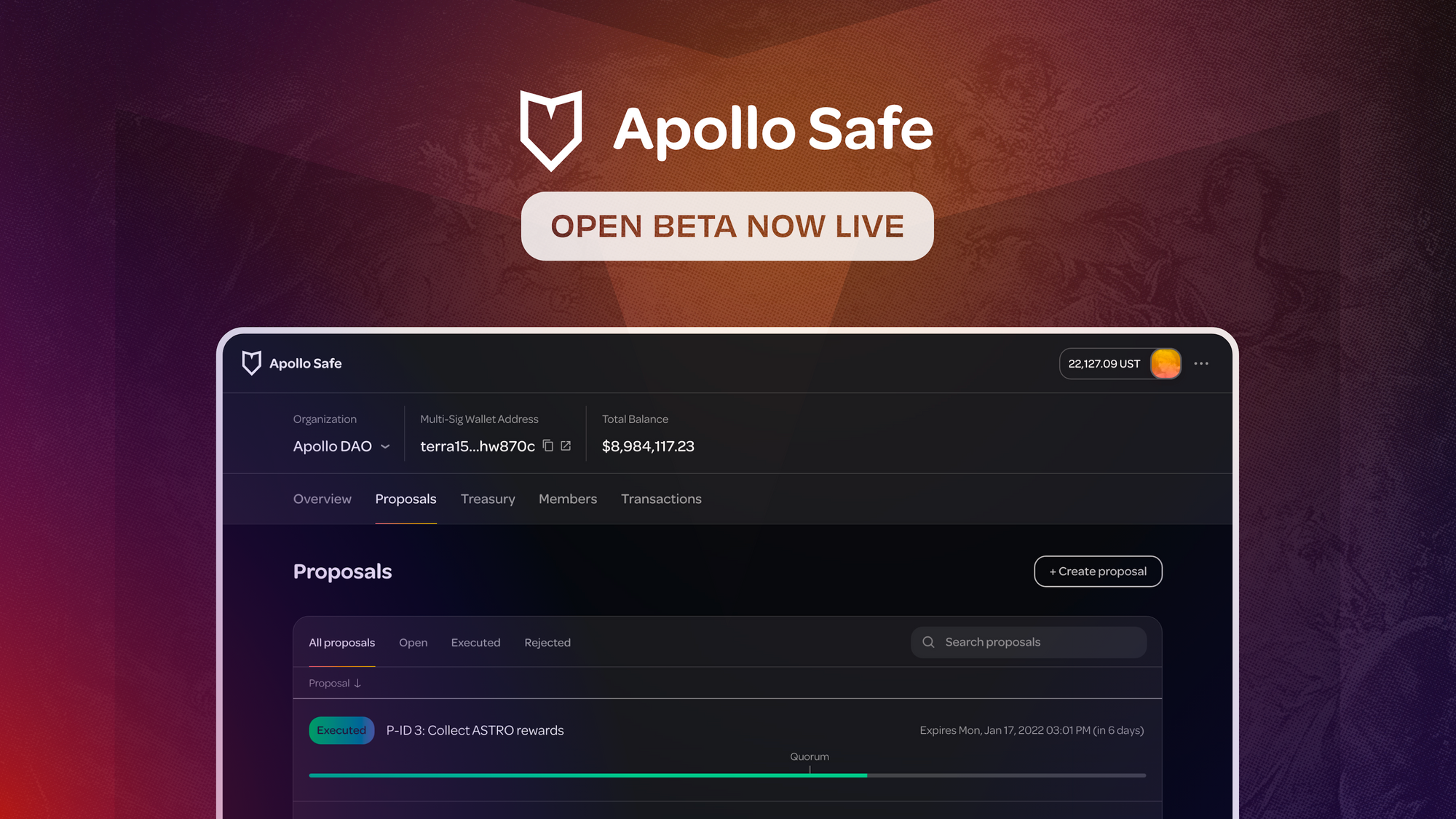 Welcome to Apollo Safe beta, the latest release from Apollo DAO.
Apollo Safe is a front end for the CW3 multi sig Contract (created by the CosmWasm team) and provides both; an easy way to create a new multi sig wallet on Terra, as well as connecting with any fixed CW3 multi sig you may already have. Apollo Safe is free to use and we have plans to Open Source it in the near future.
https://safe.apollo.farm/ (Currently Desktop Only)
Apollo Safe Warnings:
EXTREMELY IMPORTANT: Funds cannot be recovered from multi sig wallets if you lose the keys. You are in charge of your own funds.
When you first create your multi-sig, test it with a small amount of funds to ensure that it all works as expected and everyone has access.
Ensure you have enough signers, that if someone loses their keys, that funds can still be retrieved. We would recommend a minimum of 3 out of 5 signers to pass Quorum.
If someone loses their keys, you are best to create a new multi-sig and transfer funds to it.
A multi-sig with 2 signers and 49% Quorum is half as safe as a normal wallet.
Why we built Apollo Safe
Multi sig wallets are critical to the development of any blockchain ecosystem in our opinion, as not only do they massively increase the ability for projects to manage funds safely, by eliminating a single point of failure, but they also increase the accessibility of that ecosystem to other DAO's and intuitions, who are unable to operate without a multi sig wallet.
The Gnosis multi sig wallet on Ethereum is used to store over $113 Billion in ERC20 assets and highlights the popularity and usefulness of multi sig wallets. While there have been a couple of multi sig options available on Terra for a little while now, they have all required developer knowledge to operate. The idea behind our Apollo Safe multi sig front end is to abstract the complexity from using a multi sig on Terra, allowing all users access to the benefit.
We have already begun the roll out of Apollo Safe beta, providing access to a number of Terra projects, DAOs and our community. We believe the groups who will most benefit from this initial release of Apollo Safe are:
Terra projects and DAOs: We have already seen Apollo Safe appeal to a huge variety of Terra projects who are looking to easily and efficiently manage development funds, as well as treasuries before they are decentralised.
Non Terra projects and DAO: One of the main requirements for projects and DAOs to enter a new ecosystem is an easy to use multi sig wallet. We have already demonstrated Apollo Safe to a large Ethereum DAO, who are looking to manage cross chain funds
Investment Groups: Who are looking to invest and manage funds collectively on Terra. This can range from large institutional investors, to investment DAOs and even to small groups of individuals (and frens), that are looking to combine funds - for example to enter seed rounds.
One of the main missions of Apollo DAO is to help improve the accessibility and drive growth to the Terra ecosystem. This is the main reason we decided to build-out and release Apollo Safe, after designing it as an internal Warchest management tool. We will continue to work on creating and releasing the DAO tooling that we find useful and believe will help the Terra Ecosystem grow. The Apollo team is also planning to create a number of additional features in the future (Apollo Flows), that will continue to enhance functionally of Apollo Safe.
Apollo Safe
One of the main challenges with currently using the CW3 multi sig, is that Proposals have to be created with encoded JSON messages.
In order to make this more accessible, we have included a number of templates for users. During beta these templates will be quite limited, but we will continue to work on expanding these. Please feel free to reach out if you have any specific requests. You are also able to connect any Fixed CW3 multi sig you already have to the Apollo Safe interface and any multi sigs created through our interface can be used with other CW3 front ends in the same way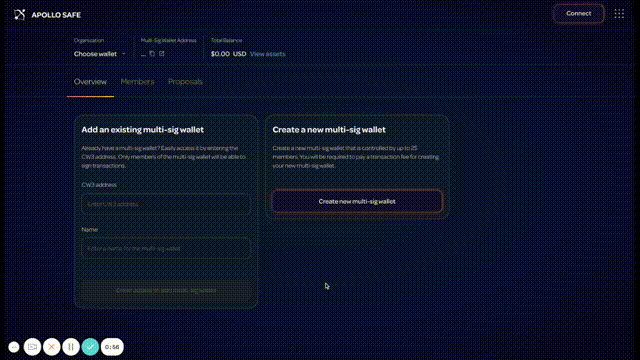 Additional Improvements
We are making a few additional improvements based on feedback from beta testers and these will be implemented very soon. These include:
Introducing a variable gas fee, rather than set at $0.25
Increasing the limit of users on one multi sig (currently at 10 through the interface) - this still works correctly, but doesn't display correctly yet.
Improve tracking of assets in the multi sig, which currently only tracks UST and Luna, but does direct users to other sources to track multi sig funds.
Feedback Welcome
Apollo Safe is still in beta and we welcome and feedback you have and will continue to enhance and make improvements on Apollo Safe. If you have any questions, please join and let us know via our social channels.
Join our Discord
Join our Telegram
Follow us on Twitter