Apollo DAO, 2021 Review and Plans for 2022.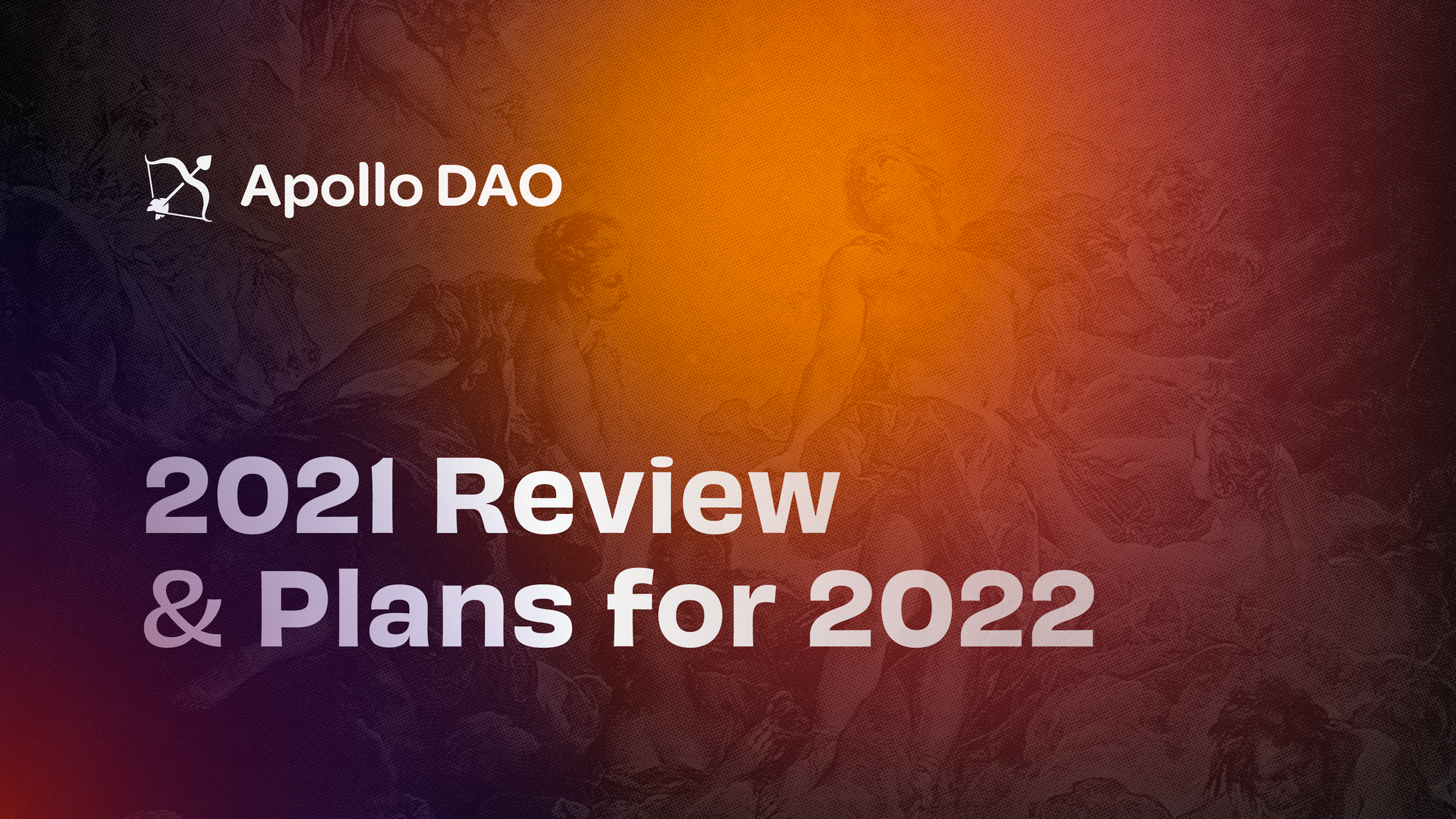 We hope everyone had a great Christmas and New Year!
What a year it has been for Apollo DAO and the whole Terra community. Firstly thank you for all the support and belief that you guys have shown us over the last 8 months since we first entered the Delphi hackathon. We have been delighted with the success of Apollo DAO so far and wouldn't be here without each and everyone of you.
Back in May, we were just a team with a dream, a presentation and an early MVP of our auto compounder. Since then, Apollo DAO was one of the earliest projects to launch on Terra and is already managing a warchest of approaching $10m, and with a current run rate of nearly $30m/year in revenue.
However, this is just the beginning and we wanted to take this chance to provide a review of 2021 and look forward to 2022.
Apollo DAO Milestones so far:
1. Delphi Terra Hackathon
Apollo DAO placed in 2nd place in the original Delphi Terra Hackaton, back in May. At this point we were a brand new team who had formed purely to compete in this hackathon and were lucky enough to attract some amazing and diverse talent to the Apollo team.
This allowed us to create a basic MVP of our auto compounder, begin to build our initial community and work on our long term plans for Apollo DAO, such as planning the creation of the Apollo Warchest.
2. Apollo DAO and DeFi Alliance
Soon after our initial hackathon success, we were invited to join  Cohort 4 of the DeFi Alliance accelerator program. The DeFi Alliance is "the leading Web3 accelerator", and having the chance to join this Cohort alongside DeFi heavy weights, such as  Bancor, Sushi, Rari Capital and many others was a huge boost to the early evolution of Apollo DAO.
We were delighted to be part of DeFi Alliance and it was a fantastic experience for the team. We learnt a huge amount from the best in the industry and made some amazing connections and frens along the way.
3. Raised $2.2m from our Private Sale
This raise was with strategic partners that have been able to open a lot of doors and have been instrumental in the growth of development of Apollo so far. These funds are used to fund the ongoing development of Apollo DAO and ensure that 99% of revenues goes to the Warchest, with the remaining 1% going to Angel Protocol.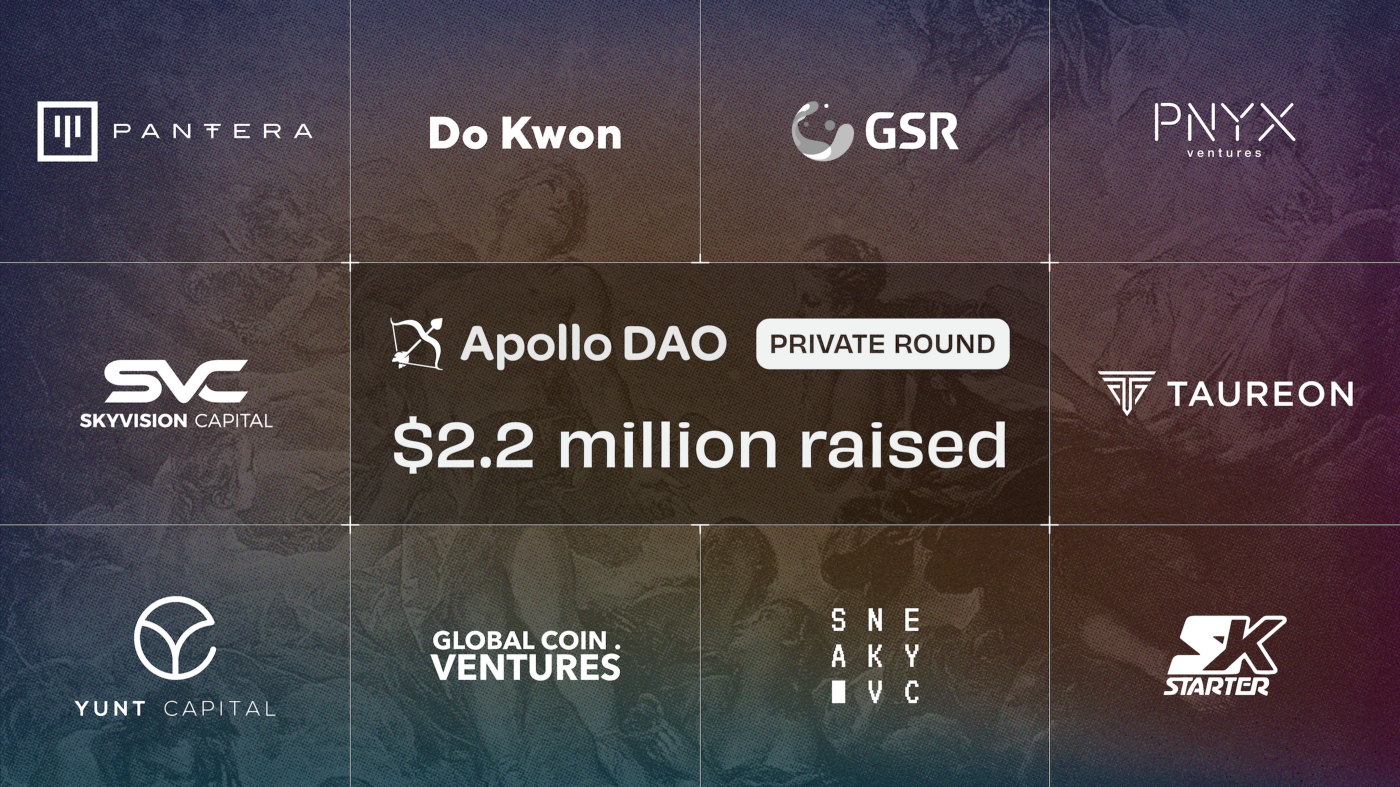 4. The Apollo CFE
The Apollo CFE was our first major release, attracting over $200m in less than 24 hours, blowing away all our expectations and prompting the CFE Phase 2 after all rewards were farmed in a matter of a few days.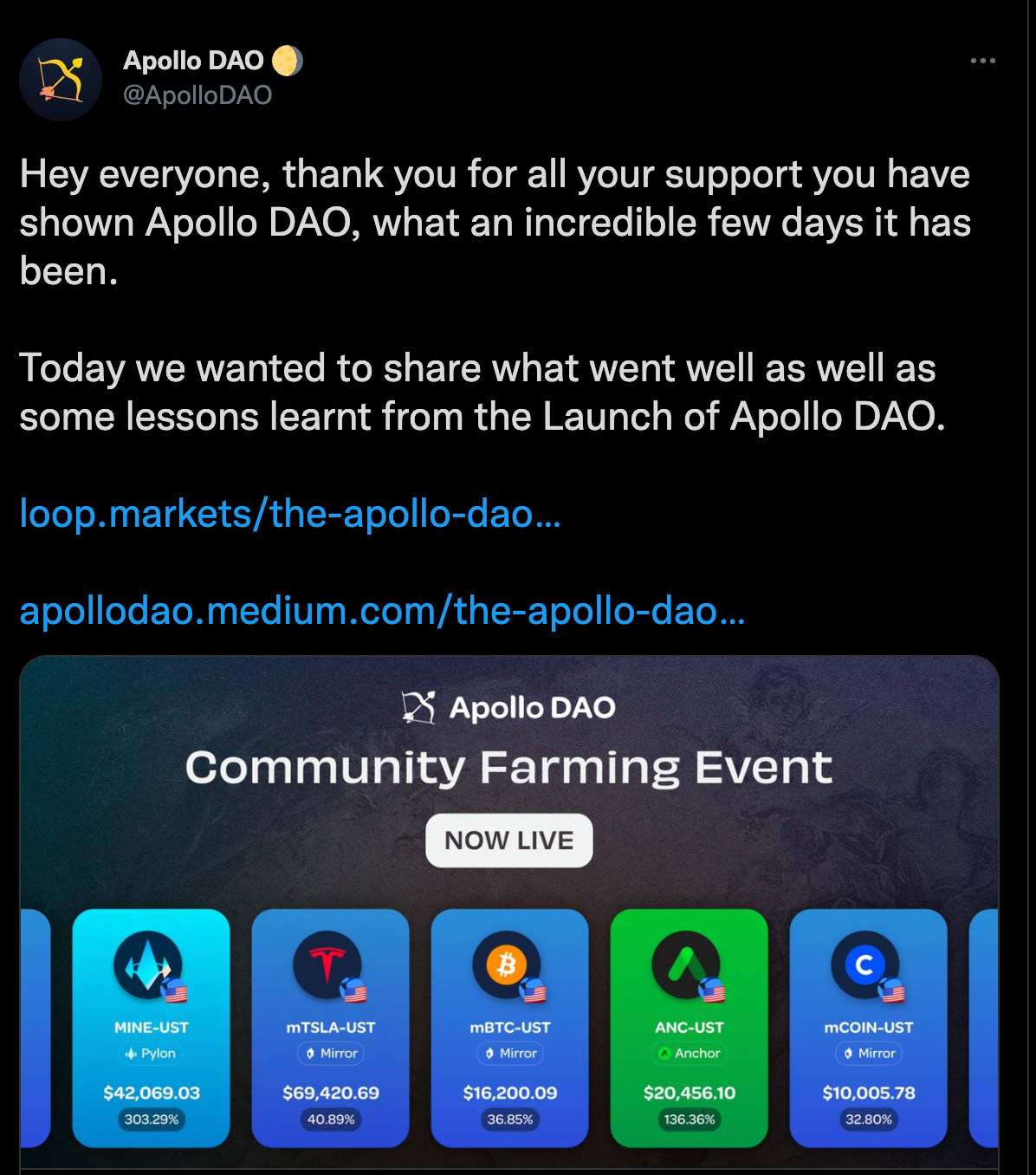 Overall we were able to bootstrap the Apollo Warchest by over $2.3m dollars, allowing us to seed $2m in initial liquidity for the Apollo token and providing us a great foundation to begin Apollo's journey towards a decentralised hedge fund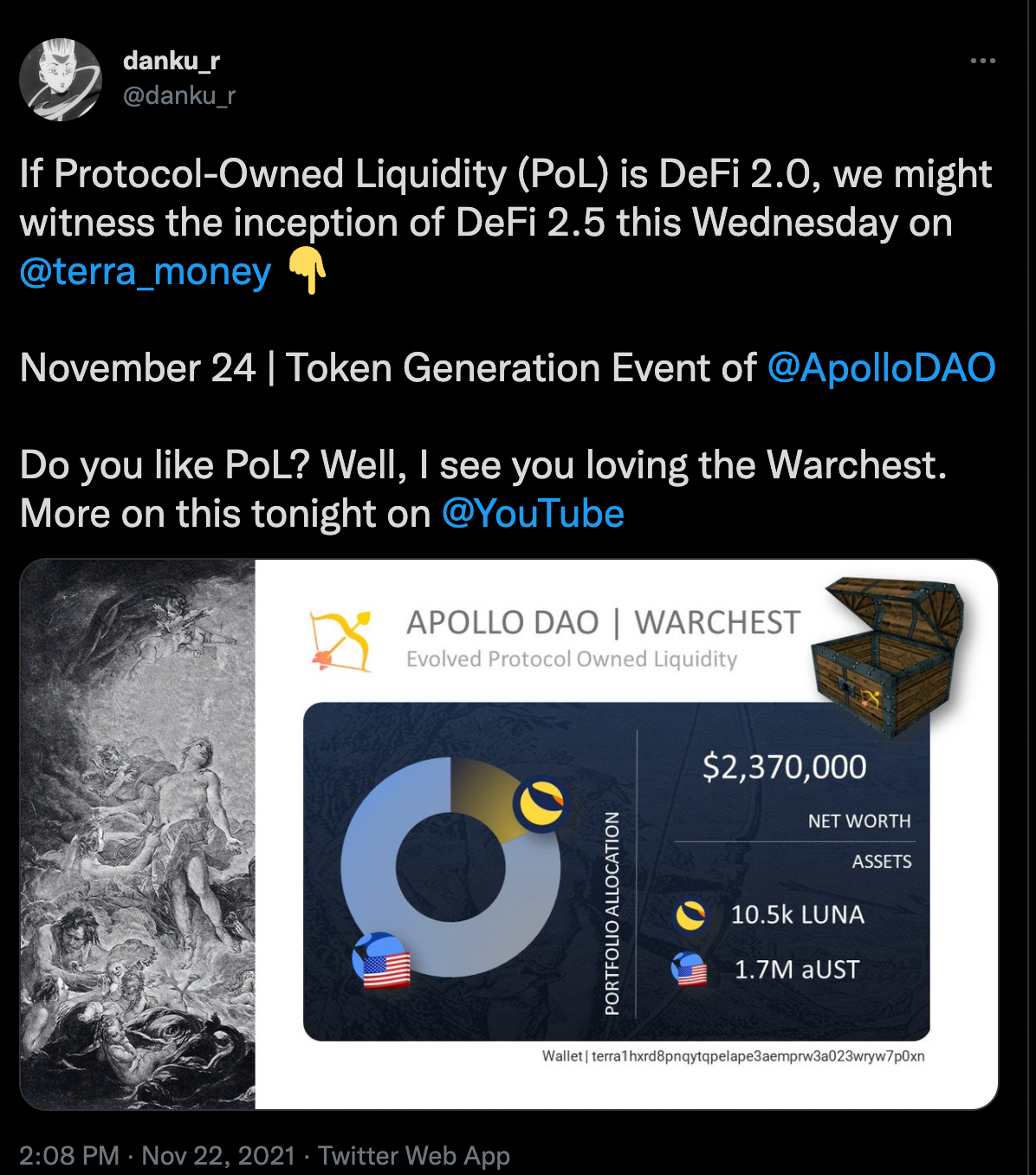 5. Featuring on the Goodwill Yunting Podcast
It was an honour to be hosted on GWY and had a great time. We will be looking to make Yunt & Apollo chats a more frequent thing over the next few weeks, to help keep you all up to date with what we have been and are working on. Here is a link to the full podcast from October.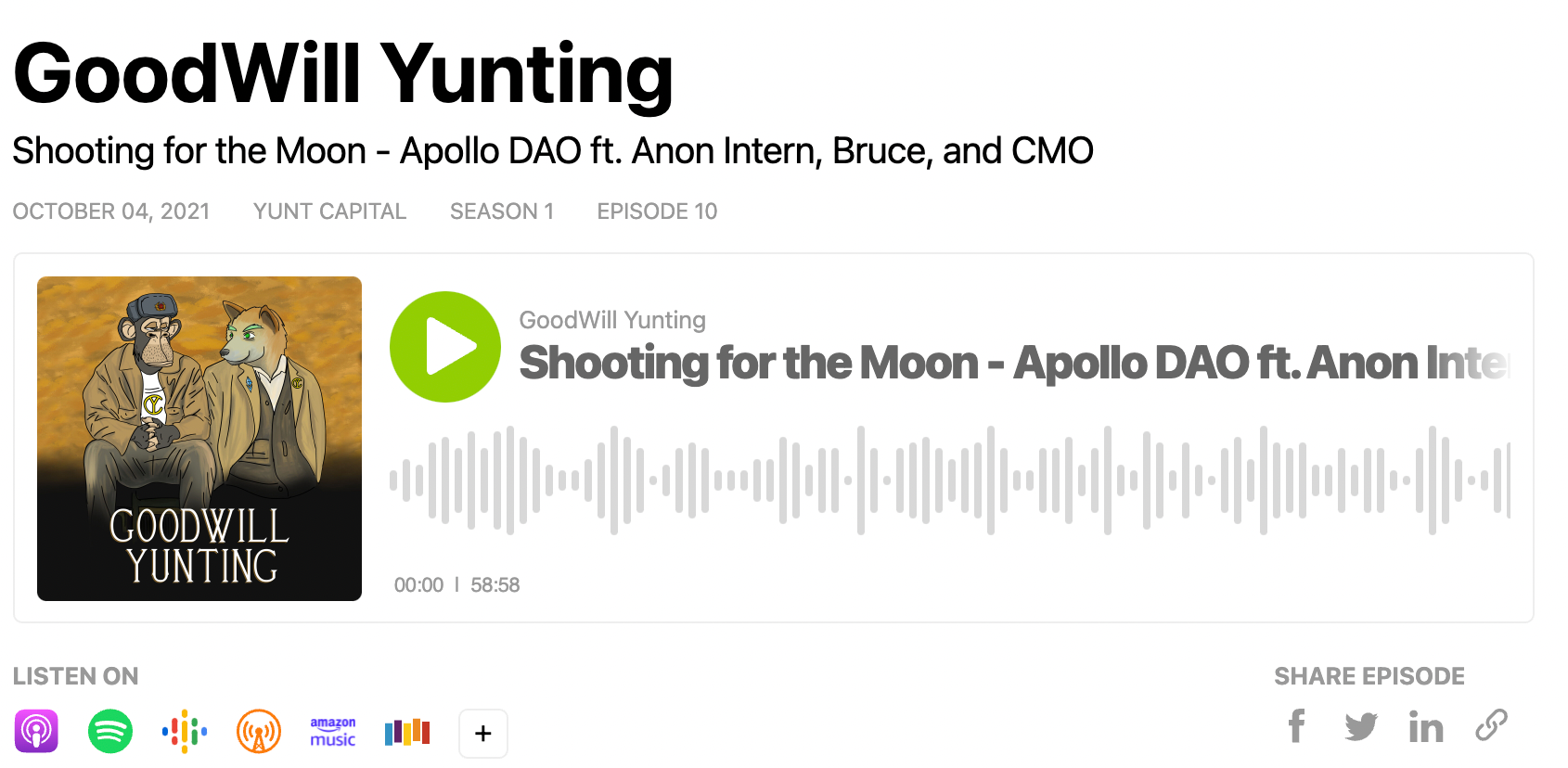 6. Apollo DAO TGE and Apollo Token Incentives
The TGE is a big event for any project and can often set the tone for things to come. We have been delighted by the support shown for $APOLLO so far, attracting over $18.5m in liquidity in a matter of weeks, meaning around 66% of all circulating Apollo is currently locked in LP, a huge achievement for any early project. This is enhanced by the fact that over 77% of this Apollo LP is locked in Astroport for an average of 240 days. This provides Apollo with a huge amount of liquidity from the start, allowing farmers to efficiently sell Apollo, while they bootstrap the Apollo Warchest.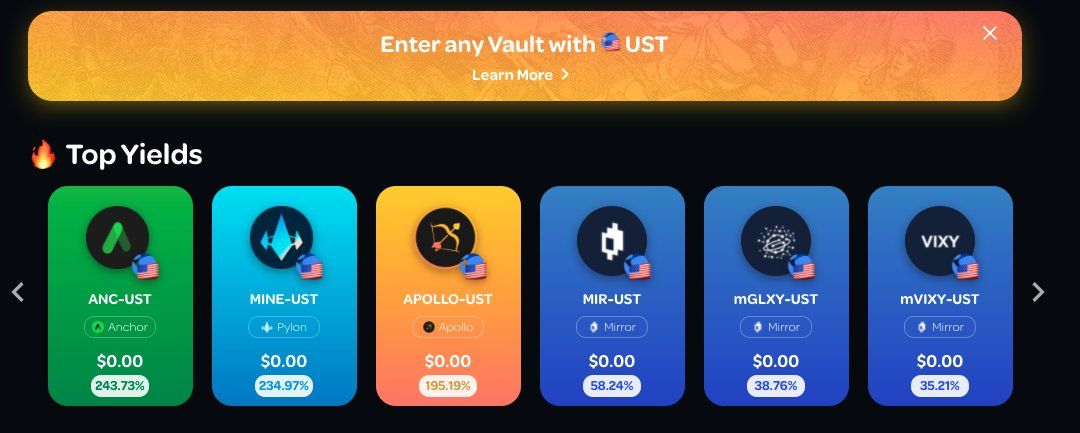 7. Apollo DAO's Angel Donation
Apollo DAO has so far donated $20k to Angel Protocol's Restore Earth campaign, after crossing the $2m in revenue. This is the first step in our ongoing commitment to donate 1% of the Apollo DAO revenue to charitable causes through Angel Protocol.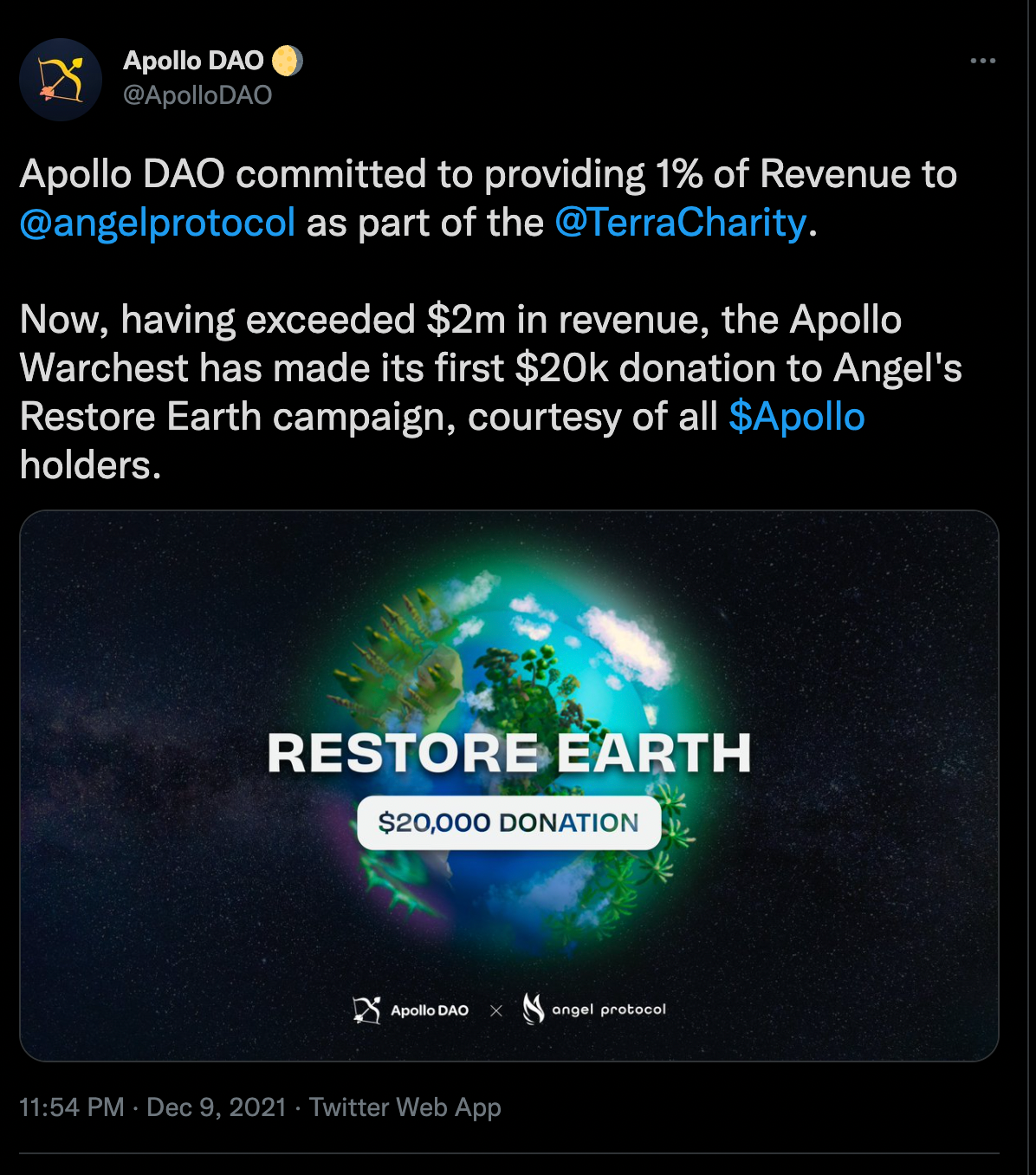 Where is Apollo Now:
Apollo Warchest and Market Cap:
The Apollo Warchest is a core component of Apollo DAO and its increasing value will be used to balance the inflation of $APOLLO in the short term and create a floor price in the long term.
We are currently working on a Dashboard to display the live Warchest stats, which should be released with a week. The Apollo Warchest currently holds around $8.5m in assets and we have provided a breakdown of these assets here: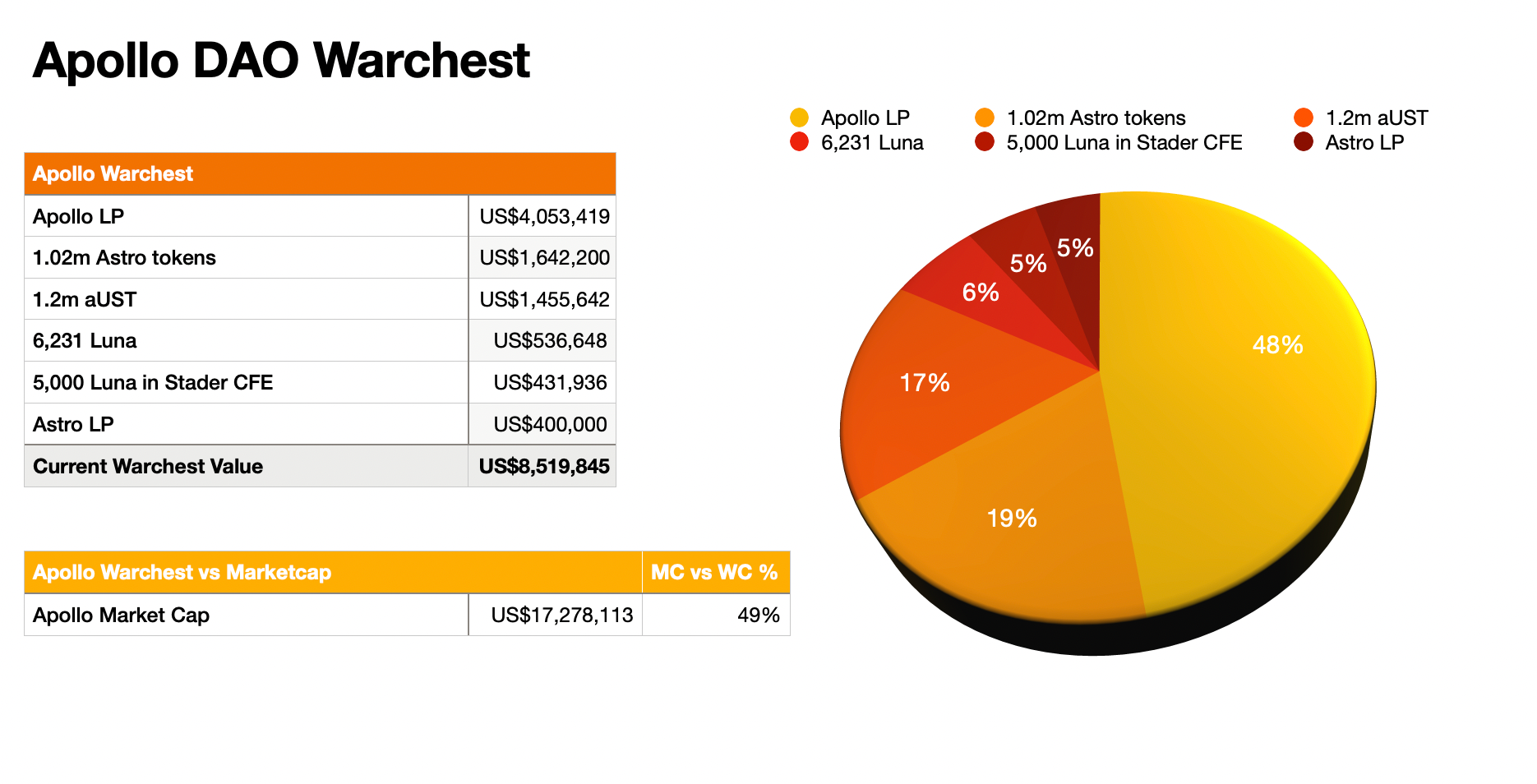 Apollo has maintained a market cap vs Warchest percentage (MvW) of roughly around 50% since launch. Apollo DAO's biggest move so far is depositing our $5m Apollo LP into the Astroport Lockdrop, earning over 1m $ASTRO token. These Astro rewards helped to maintain a roughly 2.1 MvW ratio despite the relatively large early token inflation of Apollo and have significantly reduced the percentage of Apollo LP in the warchest, diversifying the funds.
So far Apollo has focused on opportunities with very minimal risk and great potential upside, such as early farming or seed rounds of large projects (Stader, Astroport, with many more to come.) By using the treasury to invest in or farm projects that are symbiotic with Apollo, we can bring a multitude of benefits to the treasury, with Astroport being a great example.
We will be releasing a dashboard and more information on the Warchest performance so far, as well as what this means for Apollo holders in the short and long term within the next week.
Apollo DAO and Astroport:
Astroport will bring a number of key benefits to Apollo once it goes fully live and we are preparing to be able to integrate Astro vaults soon after they launch, the main initial benefits are:
Increase in rewards for LPs with additional Astro rewards
Huge new potential market for Apollo as we will be able to add Luna/UST, bLuna/Luna pools with many more to come in the future (stableswap pools etc.)
Potential for Curve Convex relationship

Due to these benefits, the Apollo Warchest will continue to accumulate $Astro tokens in a number of ways.
Through the initial Lockdrop, where we accumulated just over 1m $ASTRO tokens and at current value $400k of Astro LP.
Through ongoing Astro farming (both our own LP and through performance fees on other pairs)
We have also been able to learn important lessons from watching the success of Curve on Ethereum, whose tokenomics shares many similarities with Astroport.
Our plan is to stake this Astro for $xvAstro, to not only provide yield on these holdings, but also to replicate the Curve and Yearn/Convex relationship, where we will accumulate Astro through the strategies above, and use these to leverage our $xvAstro holdings to boost the yields of Apollo, as well as direct the liquidity to our partner protocols, which again from Curve we have seen how valuable this can become.

The future of Apollo
As well as Astroport we have a number of big updates over the next few weeks that we want to keep you updated on:
Apollo SAFE: We will be releasing our multisig wallet very soon, with Alpha testing has been completed and we will be rolling out Beta testing this week. We believe this is something that is sorely needed in the Terra ecosystem and we have already received a huge amount of interest. While we won't be charging for the initial product (like Gnosis Safe), we already have begun building additional functionality that will be available for those holding/staking a certain Apollo balance in the future.

We will be releasing a more detailed breakdown of the Warchest performance since out last update and go into more detail on why the Warchest matters. We also hope to have the v1 of our Warchest Dashboard out this week, to make it easier for our users to track performance.

New Vaults: With our latest release we have a new architecture to add vaults, which will allow us to add new vaults much more quickly. We will continue to focus on high liquidity pairs, with the next focus being on Nexus PSI (all of them) and Orion vaults, as well as the large number of vaults that Astroport will enable.

zApollo Staking: This will be our single sided Apollo staking that will work in a similar way to Curve. We will be basing this on Astroport's vxAstro, meaning we will be able to release it relatively quickly. This will allow users to lock up Apollo tokens for governance power, yield and boosting of Apollo vaults.

Apollo is also excited for a number of upcoming projects, such as Mars, Prism, Kinetic, YFD and many more. Like Astro, these projects are potentially very symbiotic project with Apollo and we will therefore be aiming to acquire these and other tokens through farming, performance fees and investments.

Apollo LP Bonds: Apollo DAO will begin to sell Apollo bonds within Q1 of '22. This will provide an additional and extremely effective way to continue to bootstrap the Warchest. We will start with bonds for Apollo-UST, then Luna-UST before branching out to additional LPs. We have a number of plans to take bonds further than this, and will be releasing more info on this in the future.

Additional CFEs: We proved the capability through the success of the "Farmer's Market" and Angel CFE, raising $2m in around 2 weeks and providing over $100k to the Apollo Warchest. This is not a market we will directly target initially, however we are already talking to a number of projects building on Terra and have received quite a lot of interest in our CFE platform.

Safety and security of our users is always a top priority of ours, and in order to further bolster our security-first posture and increase the efficiency of product delivery, we have retained Halborn, a leading auditing firm, on an ongoing basis, alongside OAK Security audits and will also be rolling out the Apollo Bug Bounty programme, as well as Open Sourcing Apollo.

Partnerships: Being one of the first community projects launched on Terra has given a great opportunity to talk to a number of projects (at a variety of stages of development) building on Terra and are confident we will be able to work with a large number of other protocols, ranging from NFT projects, to other yield platforms, to lenders and DEXs, all with the focus on improving the Terra ecosystem.

Incubation of new Terra projects: We are having a number of new projects and potential founders reach out to Apollo, and we are keen to use this opportunity to begin to incubate new projects. While this is definitely a longer term goal, we are beginning to position ourselves in this role.

NFT Boosters: While it is still early in this area it is definitely something that the community is keen to see and we will continue to work towards releasing our booster.

Warchest Owned Liquidity: Apollo will be acquiring enough of our own Apollo-UST LP in the Warchest to support trading long term, beyond the inflationary period of Apollo. So far this has bootstrapped by the $2m initial liquidity (now worth roughly $4m), and will continue to be accrued through a number of methods. In the short term this will allow us to earn rewards such as $Astro, $Apollo and fees on this LP, while in the long term it will not only ensure there is always sufficient liquidity to trade $Apollo, but will also help build the $Apollo price floor.
Conclusion
Overall Apollo DAO has come a long way in the last 8 months, but this is just the beginning for Apollo and the whole Terra ecosystem. The majority of the items mentioned above we aim to have implemented by the end of Q1 '22, with some of them being finished at the start of Q2. We will be putting out more information on each of these items individually  shortly, as well as more exact timelines.
We are especially excited for enable Apollo Governance and the new functionality that new projects coming to Terra will enable for Apollo. While we have been a bit quiet over the Christmas break, we took this opportunity to be a bit more heads down and have some exciting releases over the next few weeks. There are also a number of things not mentioned here as they are still being fully worked out, but we will be releasing more information on them shortly.
Join our Discord
Join our Telegram
Follow us on Twitter